The Syndicat Mixte des Aéroports de La Rochelle – Ile de Ré and Rochefort – Charente-Maritime is fully committed to its development policy through 3 axes aimed at limiting the impact of its activities:
Reducing energy consumption and greenhouse gas emissions
La Rochelle – Ile de Ré Airport has decided to adopt a voluntary approach enabling it to monitor, control and reduce its greenhouse gas emissions.
La Rochelle – Ile de Ré Airport has therefore joined the Airport Carbon Acreditation (ACA) programme, an international programme to reduce greenhouse gas emissions specific to airport managers. This certification assesses and recognises the efforts made by airport managers to reduce their greenhouse gas emissions and requires verification by an independent third party. It comprises 4 levels of accreditation: mapping, reduction, optimisation and neutrality.
The carbon footprint of the activities controlled by the Syndicat Mixte pour l'Aéroport de La Rochelle – Ile de Ré has been evaluated at 61 tCO2 in 2018, 61 tCO2 in 2019 and 34 tCO2 in 2021. This reduction in the carbon footprint is the result of concrete actions implemented: replacement of the Maintenance vehicle by an electric vehicle in 2020, subscription to a 100% renewable energy electricity contract as of 1 January 2021, optimisation of lighting (installation of movement detectors, scheduling of outdoor lighting, gradual replacement of lighting with LEDs, etc.), deployment of an energy saving system for the building. ), deployment of a centralised technical management system to control air-conditioning and heating temperatures, removal of the oil-fired boiler as part of the commissioning of the new SSLIA building in the autumn of 2022, etc. Thanks to this methodology, La Rochelle – Ile de Ré Airport has been able to identify the most emissive items and decide on appropriate actions.
La Rochelle – Ile de Ré Airport was accredited ACA – Level 2 – Reduction in November 2022, attesting to the efforts made to reduce greenhouse gas emissions.
As part of this process, La Rochelle – Ile de Ré Airport has set the following objective: a reduction, in absolute terms, of emissions from scopes 1 and 2 by 50%, using market-based methodology, in 2030 compared to 2018.
Other actions are being defined and implemented in order to progress in the accreditation levels.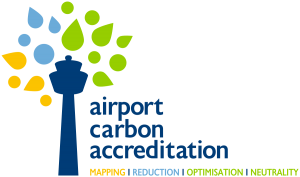 Improve waste recovery
Since January 2020, the Syndicat Mixte has implemented, for La Rochelle – Ile de Ré Airport, a waste sorting, collection and recovery policy, in conjunction with the CDA Waste Management and Prevention Department. of La Rochelle, as well as BIOTOP, an eco-network of companies in the Rochelle region.
Dedicated paper collection bins are made available to staff working at the airport.
A glass container has been installed by the CDA of La Rochelle.
Joint work has been initiated with Lagardère, manager of the Trib's catering area, to encourage customers to better sort glass and recyclable packaging.
Specific waste, such as wooden pallets, scrap metal, used furniture, WEEE, light bulbs, batteries, PVC tarpaulins, printing cartridges and toners, etc., are deposited at BIOTOP for better recovery.
Act in favor of biodiversity
The Syndicat Mixte has chosen to no longer use phyto-sanitary products at the 2 airports of La Rochelle – Ile de Ré and Rochefort – Charente-Maritime.
This is made possible by more regular mowing around the facilities and mechanical weeding if necessary.